RECLAIM SUSTAINABILITY!
A big highlight in the year ahead unquestionably is our programme RECLAIM Sustainability!, that we launched together with Solidaridad, Trust Africa and Business Watch Indonesia. This 5-year programme is implemented in strategic partnership with the Dutch Ministry of Foreign Affairs, within their subsidy framework Power of Voices. With it, we strive to foster genuine and inclusive sustainability in global value chains, in which the voices of farmers, miners, workers and citizens are well represented in decision-making.
It should come as no surprise that Fairfood takes up the position of innovation lead. We will be developing smart innovations that increase transparency and traceability in cocoa, tea, and coffee value chains, ultimately allowing farmers, workers, and citizens to reclaim their rightful voice. 2021 will see the launch of several innovation pilots in these commodities that will help build the case for transparency and traceability to reach fair value distribution and decent work conditions.
One such pilot is focussing on cacao value chains originating in Sierra Leone. As we trace cacao from tree to bar, we are looking to build extra value through data collection, which through our Trace platform will directly end up in the farmers' pockets. Other wins are expected when it comes to production methods and efficiency. Lastly, by making farmers an integral part of the cocoa chain, we expect to offer them a stronger negotiating position with both their customers and lenders, which should allow them to make their businesses future-proof.
At the far end of these value chains, we will step up our lobby and advocacy efforts when deploying the results from the pilots in both citizen campaigns and in our call for regulatory frameworks. Ultimately, we want transparency and traceability to be widely adopted to reach fair value distribution and decent working conditions.
Some (but not all) important goals:
The pilots together will connect
over

1.400 farmers

to the
Trace platform
cocoa farmers get an improved bargaining position
In the cocoa sector we see
new private sector policies developed, addressing child labour, fair value, deforestation and women inclusion
42.5 million European citizens are reached, of which 22,500 mobilised to actively push for change with policymakers
international coffee corporates commit to improved transparency and fair value distribution models
VERSTEGEN SPICES & SAUCES
A brand-new project has Verstegen Spices & Sauces paying a premium that is transferred directly into the farmer's pocket. You heard it here first: to prevent backwards margin escalation – Verstegen paying a higher price and every person down the value chain putting some of that extra money undeservedly in their pocket, leaving the farmer with nothing – Verstegen decided to take matters into their own hands, paying a premium for their products which through Trace directly ends up with the farmers.
As a follow-up to our joint nutmeg project in 2019, this new project has Verstegen expanding the use of Trace to two nutmeg supply chains, tracing a total of 10 thousand kilos of nutmeg, produced by 300 – 500 farmers. Farmers are connected to the Trace platform using NFC cards that they bring to every transaction, so any relevant data is directly matched to their digital file.
Verstegen has been using Trace to safely store farm data and find new ways to transfer value back to the farmer. To increase the sustainability of their supply chains, they are investing in supply chain transparency, product traceability, and direct relations with farmers and suppliers to have a positive impact on the livelihoods of the ones involved. The new project aims to have suppliers mapped in a database, with farm data related to, for example, yield, land size, and number of trees, for new learnings and quality and quantity improvements.
The project also includes offline deliverables, such as developing an empowered network of farmers, alongside better infrastructure. All the while farmers are incentivised with a premium for quality, and for their data.
Verstegen is connecting about
farmers to the Trace platform
TRABOCCA AND SIMON LÉVELT
There's a lot of talk about living wages and incomes lately. Trabocca decided to actually walk the talk and, together with Fairfood, realise living income coffee. That's right, you drink a cup of coffee, the farmer receives a living income. It's as fair as it gets. Where do I buy this coffee, you ask? Well, exclusively at Simon Lévelt!
After first launching a pilot with specialty coffee importer Trabocca in 2020, they soon decided to expand the use of Trace to new value chains. The new partnership aims to determine how big a gap there is between the current income of 628 Ethiopian coffee farmers and a living income. Next, Trabocca will look into realising living incomes by raising the farm gate prices, as part of the bigger goal to reduce poverty and address other issues in the value chains, such as child labour and bad working conditions.
The project involves two Ethiopian suppliers who buy from 628 coffee farmers. These suppliers represent

9 percent

of Trabocca's annual purchase value
Trace allows the analysing of data to learn more about living incomes on the one hand, and the verification of the payment of higher farm gate prices, which is made visible to coffee drinkers in the Netherlands on the other. Coming to you soon: living income coffee.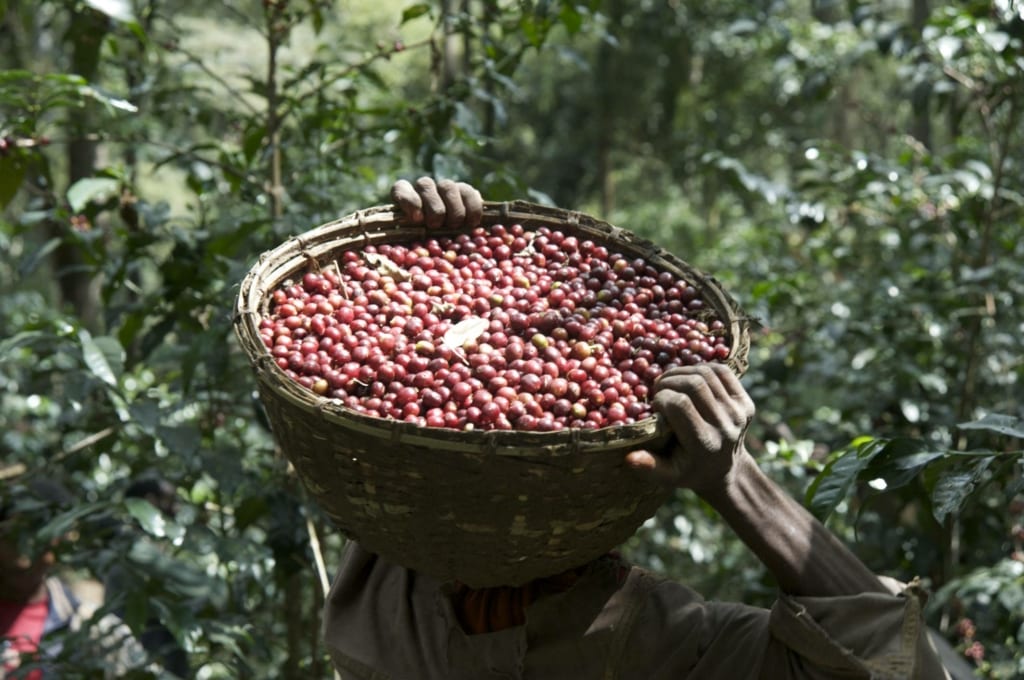 Other digital innovations, like digital scales, will be developed to assure the harvest is automatically recorded and payments are verified. Trace connects consumers to farmers, and initiates marketing and educational activities about living incomes. On the farmers' side, technological steps are made to solve the 'garbage in – garbage out' issue, and make sure farmers too can access Trace.
PURE AFRICA AND MORE
We are extremely pleased to see that Trace is expanding quickly. With over 50 companies having expressed serious interest in using our platform to improve the transparency and traceability of their products, it's fair to say that 2021 will see the launch of several wonderful projects. Wouldn't it be great, a supermarket filled with products that allow you to explore their true background story? Actually knowing where your mango, coffee, chocolate, and avocado came from, and if people and the planet were respected during its production?
One such project that we can already tell you a little bit about is in partnership with specialty coffee brand Pure Africa, who wishes to gain a better understanding of their value chains. Pure Africa will start by following two shipments of coffee – close to 40 thousand kilograms – from farmer to cup, with the aim to learn if the price they are paying the farmers is sufficient to be called a fair price. More specifically, as they are already paying farmers a premium on top of the market prices, they want to find out if this is enough for the farmers to invest in their future. As Justus Bijlsma, co-founder of Pure Africa, says: "We don't want them having to take out expensive loans in order to be able to finance their business."
This first pilot project with Pure Africa will connect