On May 14th, our platform Trace officially saw the light of day. Trace allows agri-food businesses to uncover the human fingerprints on their products. Through blockchain-enabled transparency and traceability, you may find the answers to questions like 'who made my food?' and 'how is that person doing?'.
+ people joined us in our
festivities as we celebrated
this big day with a digital
event (with over a 100 people
watching it in their own time)
40-50 companies

and
organisations have used


or are using Trace for improved




transparency and traceability
+ more companies have expressed interest in Trace, or are currently exploring its usage
On their journey towards fair, poverty-free coffee, Trabocca was one of the first companies to employ Trace as a tool to answer the question whether coffee farmers are earning a living income.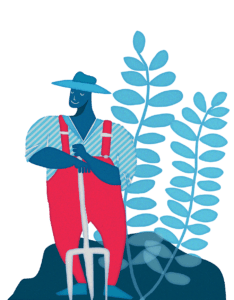 278 farmers
participated in
the first pilot
A follow-up project was just kicked-off. This project will identify the living income gap for 630 Ethiopian coffee farmers and close it. Where do I buy this living income coffee, you ask? Well, at Simon Lévelt!
In the years following the coconut and coffee campaigns in 2017 and 2018, we have talked to over
companies about the importance of transparency and a living wage or income
unique farmers, and all
the companies between
them and the end consumer,
are now registered to our Trace
platform
Our Trace Talks webinar series saw
live attendees and were replayed 235 times
Together with Solidaridad, TrustAfrica and Business Watch Indonesia, we are beyond excited to have launched a joint programme, RECLAIM Sustainability! Implemented in strategic partnership with the Dutch Ministry of Foreign Affairs, this 5-year-programme strives to foster genuine and inclusive sustainability in global value chains with the use of smart innovations, amplifying the voices of farmers, workers and citizens.
We are ever grateful for the yearly 500 thousand euro funding, made possible by everyone partaking in the National Postcode Lottery! We couldn't be where we are today without you!
After the launch in 2019, 2020 was the year we saw the number of ALIGN partners grow. With founding partners GIZ and Rainforest Alliance, and new partners like Fairtrade International among others, we can confidently say that ALIGN is the number one-stop for anyone who wishes to work on living wages and incomes.
expert organisations and governments are currently actively endorsing and shaping ALIGN