In the quest for a sustainable future no stakeholder is left behind, which makes strategic partnerships all the rage. To actually make a difference means knowing your strength and providing others with that strength as we all join forces together. Fairfood is the strategic partner that knows tech for good, develops and offers tools and platforms, and is fluent in the topics of transparency and traceability, living wage and income, and fair data.
We currently have 59 official partners, including companies like Total Produce, Verstegen Spices & Sauces, Trabocca, Social Vanilla, but also the Dutch and German government, knowledge institutes like the Royal Tropical Institute (KIT), and NGO's such as Solidaridad and Rainforest Alliance
We are running projects in
countries, for example in Honduras, Ethiopia, Sierra Leone, Uganda, Indonesia, South Africa and Kenya
We are working on making 25 commodities more fair, including cocoa, coffee, nutmeg, vanilla, tea and citrus
POSTCODE LOTTERY
Our longest standing partnership is undoubtedly the one with the Dutch Postcode Lottery. Since 2009, the Lottery has been supporting our work with 500 thousand euros per year, thanks to their generous policy of giving at least 40 percent of their revenue to organisations that work on improving the environment, human rights, and development cooperation.
As of this year, there's an extra dimension to our partnership with the Lottery. As we write this annual report, the astonishing news reached us that, together with Solidaridad and others, we have been awarded their Dream Fund. The Dream Fund is a one-time-only donation for projects that are especially brave, impactful, and groundbreaking. Read more about our Dream in Chapter 4!
We want to sincerely thank the Lottery and its participants!
CISCO
A brand-new name on our list of strategic partners is the Silicon Valley-based tech company Cisco. Committed to the goal of positively impacting one billion people with technology solutions by 2025 through their social impact grants and programs, Cisco entered into a new partnership with Fairfood. This partnership allows us to expand the reach of Trace and improve first mile connectivity. We are all set to refine the platform and mobile field app, enabling traceable transactions across supply chains, and allowing companies to verify claims about their sustainable practices and undertake efforts to increase farmers' incomes.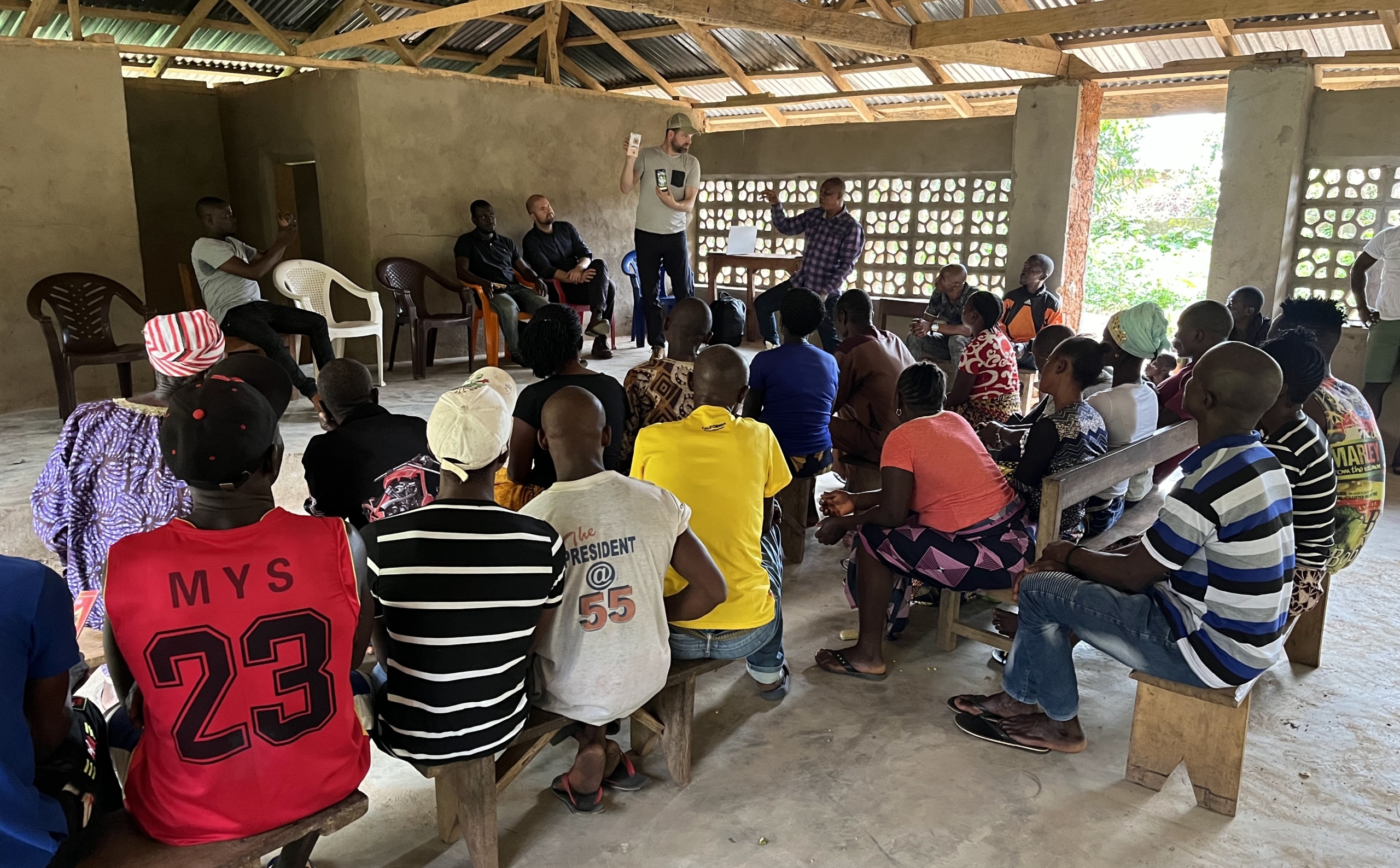 We are excited to embark on this new partnership with Fairfood. By supporting the further development of Trace and specifically its ability to directly connect smallholder farmers in low and middle income countries to the international supply chains that determine their future, we can help increase transparency with the ultimate goal of encouraging fair business practices and improving livelihoods.
SOLIDARIDAD
Back in 2020, as part of the subsidy framework Power of Voices of the Dutch Ministry of Foreign Affairs, we kicked of our partnership with Solidaridad. This partnership took on the shape of a 5-year programme, RECLAIM Sustainability!, which marked the beginning of a fruitful collaboration that by now has evolved past this programme (read more on RECLAIM Sustainability! in Chapter 2). As mentioned earlier, in 2021 Solidaridad and Fairfood, together with other partners, applied for the Postcode Lottery's Dream Fund, which we just learned was granted to us.

Whereas RECLAIM Sustainability! already sees us working to alleviate poverty among farmers and workers by getting their voices heard, the Dream Fund is extending our scope to the environment. Together with Rabobank and their platform Acorn, we enable farmers to become climate heroes instead of climate victims, as they actively collaborate with companies on the far end of the supply chain who wish to offset any emissions, to plant trees on their farms to absorb excess carbon. Companies can now work towards carbon-neutral products, while the farmers not only have a new source of income by getting paid for their carbon credits, but can also make their farm climate resilient – trees provide shade, keep soil healthy and offer the opportunity of growing new crops. Read more about this brand-new project in Chapter 4!
In Solidaridad, we found a partner working on similar goals, with a similar mindset, yet we complement each other in our diversity of knowledge and skills, each representing our own niche.
MINISTRY OF FOREIGN AFFAIRS
In 2021, we continued our partnership with the Dutch Ministry of Foreign Affairs, as the 5-year-programme RECLAIM Sustainability! took shape further. The ministry is not only involved as funder of this programme, but as a strategic partner, who actively thinks with us on a strategic level.
GIZ AND ALIGN PARTNERS
We proudly continue our partnership with GIZ, allowing us to further grow and improve ALIGN, our guidance tool for living wage and income. GIZ became our main funder and implementer of ALIGN, after members of our Living Wage & Income Lab expressed difficulties comprehending the topic of living wage and income.
In October 2020, a Memorandum of Understanding was drawn up between Fairfood, the German Federal Ministry of Economic Cooperation and Development (BMZ), GIZ, the Global Living Wage Coalition, Hivos, the Living Income Community of Practice, Rainforest Alliance, and Fairtrade International, in which all parties endorse and recognise the importance of ALIGN. With their and our expertise combined, ALIGN is growing into the number one portal for businesses that wish to realise living wage and income in their supply chains.
MVO PLATFORM
In 2021, after having been away for a little while, Fairfood decided to once again join the Dutch MVO Platform (Responsible Business Conduct Platform). This network of Dutch Civil Society Organisations (CSOs) and trade unions encourages government officials to push the agenda for responsible business conduct. Having a Rolodex filled to the brim with politicians able to make a real change, an expert lobby team pushes for government policy that stimulates responsible business practices with companies, while holding the ones that don't follow suit accountable. A highlight in 2021 was the Dutch government's announcement that they'll introduce national corporate accountability legislation, which was echoed in the new government's coalition agreement. Fairfood takes pride in supporting the great job MVO Platform is doing with knowledge, advice and funding.
IDVO
IDVO is the Initiative on Sustainable and Responsible Business (Initiatief Duurzaam en Verantwoord Ondernemen in Dutch), a lobby initiated for binding Dutch legislation for companies, forcing them to respect people and the planet. Fairfood is one of over 130 signatories, including civil society organisations, companies, unions, and scientists, who all see national legislation as a stepping stone towards more ambitious legislation on EU level.
These are our best blogs on mandatory due diligence:
DISCO
DISCO, short for Dutch Initiative on Sustainable Cocoa, is one of the national public-private partnerships of the ISCO family. This family – other members being, for example, GISCO (German Initiative on Sustainable Cocoa) and FRISCO (French) – is working to improve the livelihoods of cocoa farmers. Fairfood is one of the Civil Society Organisations providing knowledge to member businesses like Tony's Chocolonely, Mondeléz, Nestlé Netherlands, and Friesland Campina, who are all looking to improve their business operations.
Together, we work towards achieving three overall goals: 1. Farming families whose main livelihood comes from producing cocoa will be able to earn a living income by 2030; 2. Cocoa-related deforestation and forest degradation in producing regions where the Dutch cocoa industry and their trade partners source from, will have come to an end by 2025; 3. Effective measures and necessary actions contributing to ending all forms of child labour by 2025 are taken.
Filling up those supermarkets with chocolate that's actually fair!