Panel discussion: tech for good
On the 5th and 6th of November, the international conference on living wage and income will take place, that Fairfood is co-organising with Fairtrade, Rainforest Alliance and the Dutch Ministry of Foreign Affairs amongst others. Next to plenary sessions with keynote speakers such as Minister Sigrid Kaag (Dutch Ministry of Foreign Trade and Development), several break-out sessions will dive into subjects like sustainable procurement, methodologies and bottlenecks. Fairfood will host two panel discussions that will deep-dive into the digital era (tech for good): how can we utilise technology for meeting ambitions on living wages and incomes? A backdrop sketch:
Get your tickets for the conference here
He who owns the soil, owns up to the sky, as an old agricultural saying goes. Modern farmers own a potential goldmine on top of that soil. It's not their maize or corn, nor their tractor or even their wind turbine. The goldmine is right in their hands, literally. It´s their smartphone, and the data it collects are the mother lode. Data about crops, yield, rains, inputs, loans, areal, soil conditions, and – not to forget – data that reveal the transport circle of the farmer, and how many hours he or she procrastinates on Facebook or Tetris.
This may sound a bit farfetched, realising that there's still a huge digital divide, especially when it comes to an available internet connection. It's not about the mobile phone itself. In the least developed countries, you'll find a mobile phone in 9 out of 10 households in the city, compared to 6 out of 10 in rural areas (ITU, 2018c). Internet use has also grown in a steep curve the last decade. However, halve of the world remains offline, with only 1 in 5 people online in the poorest economies. Moreover, the gender gap is the widest there, with women in rural areas staying the least connected to the digital world (source: Digital Economy Report).
The data generated while exchanging information and transactions, are an unopened treasure box.
On the other hand, we witness the rise of so-called super platforms, solutions that bundle multiple services to smallholder farmers, for example digital finance and market-linkages, by eliminating layers of intermediaries and create immediate economic value.
The data generated while exchanging information and transactions in turn are an unopened treasure box for banks, agricultural investors, traders and sellers of agricultural inputs and supplies that seek to better target their customers.
The future of farm data
If those two trends coalescence in let's say 5 or 10 years from now, we can expect a next big bang of big data. If farmers generate and share relevant data with other supply chain actors and service providers, not only supply chain transparency and product traceability will be improved, it could also lead to value addition that trickles down to the farmer.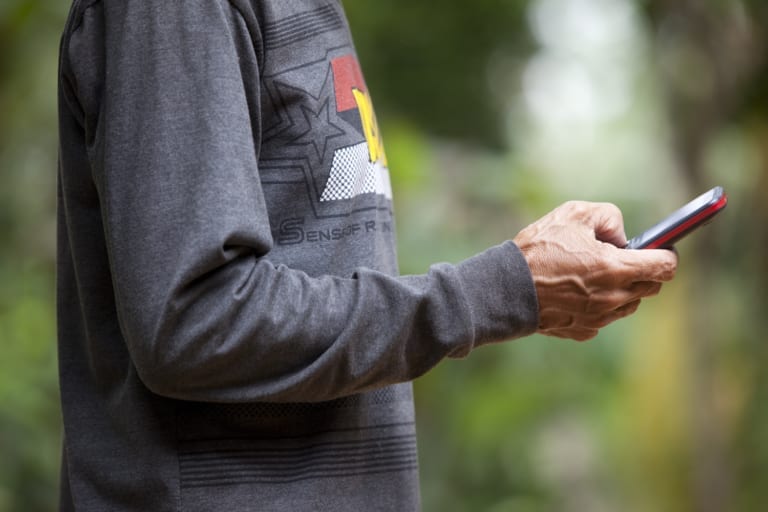 However, a big risk lies in wait. I think a lot of us must reluctantly admit from our own experience that we're willing to pay with our personal data as a currency (think Google search history for green socks, embarrassing party pictures, chats with longtime no see friends) in exchange for unlimited access to online services that make our life easier and more connected. So, what would you do if you were a farmer in a remote area who has to overcome the no-income period between two harvests? I would definitely end up selling or exchanging my valuable data to the first bidder available.
I wouldn't be surprised if farmer data end up being traded within the same structures as traditional commodity markets, where supply chains are opaque and farmers have low to no bargaining power. Sounds somewhat familiar, doesn't it?
Let's grasp the opportunity to rethink, in narrow cooperation with farmer groups, how they can manage their own digital account, safely store and share data and start building their own, autonomous, digital administration that provides them with new income in a fair and sustainable way. Up to the sky.
We wouldn't be surprised if farmer data end up being traded within the same structures as traditional commodity markets.
Want to talk data?
Come and join us at the The Only Way is Up! conference, 5 en 6 November, Van Nelle Fabriek, Rotterdam. Conference sessions will highlight best practices and showcase concrete efforts towards a decent standard of living. Learn and share with other actors through hands-on workshops, panel discussions, and presentations.
Fairfood will be hosting two panel discussions that are covering the field of innovative for a more fair food system, tech for good. Panel members are Mariska Lammers (Dutch Ministry of Foreign Affairs), William Matovu (Heifer Uganda), Jan Top (Wageningen University & Research), Panos Loukos (GSMA), Marten van Gils (Fairfood), Genevieve Leveille (Agriledger), Ad Rietberg (COIN22), Sander Reuderink (Trabocca) and Chris Georgen (TOPL). Moderated by Frederik Claasen (Solidaridad) and Jolande Sap.
The Only Way is Up! is organised by a consortium consisting out of Hivos, Fairtrade, IDH the sustainable trade initiative, Rainforest Alliance, the German Federal Ministry for Economic Cooperation and Development and the Dutch Ministry of Foreign Affairs. Get your tickets here.