Case study: how agri-wallet drives sustainable food production
At Fairfood, we identified nine ways in which blockchain technology can empower smallholder farmers. In a new blog series we will dive into these nine topics, looking at interesting use cases, reports and visionairs. In the fourth post, guest blogger Ad Rietberg provides a case study from his company Agri-wallet of how blockchain can help farmers get access to credit.
Food and agribusiness have a massive economic, social, and environmental footprint—the $8 trillion industry represents 10 percent of global consumer spending, 40 percent of employment, and 30 percent of greenhouse-gas emissions. Population growth will increase crop demand for human consumption and animal feed by at least 100 percent in 2050. Blockchain-enabled sustainable finance platforms, like Agri-wallet, could revolutionise access to capital and unlock potential for new investors in projects that address environmental challenges.
Demand for commodities like beef, palm oil and soy are driving deforestation and land conversion to farmland. Depletion of natural resources and the impact of climate volatility on crops require an urgent transformation in world food production. The pressure on water, land, energy, and labour resources will necessitate innovation to enhance agriculture productivity and drive sustainability.
As the urgency of the climate crisis becomes clearer, market forces are beginning to shift.
Sustainability shifts
As the urgency of the climate crisis becomes clearer, market forces are beginning to shift. Producers and food companies need to embrace more stringent environmental standards, organic-certification requirements, and traceability standards in the face of evolving regulation. Consumers want more sustainably produced food and demand bold climate action.
Agri-wallet, a Dutch fintech, aims to unlock investment and drive innovation and sustainable food production. Founded in 2017 and winner of multiple awards, including the World Bank's Disruptive Agricultural Technology Award, Agri-wallet provides supply chain finance to ensure that all actors in the value chain – including farmers, buyers and suppliers – can access the resources they need to grow and scale. Agri-wallet makes agri-finance easy and affordable for its customers and profitable for its investors – an often difficult balance to strike when it comes to smallholder farmers and agricultural finance. Linking lending to a reduction in greenhouse gas emissions and environmental, social and governance (ESG) scores drives food and agribusiness transformation.
Access to finance
Agri-wallet's blockchain-enabled solution provides easy and affordable supply chain finance to farmers, buyers and input providers "earmarked" for income generating agricultural activities. Buyers can access working capital overdrafts earmarked to pay farmers for their produce. At the time of purchase, buyers use their Agri-wallet overdraft to pay the farmer quickly, repaying the value of the produce they have purchased plus interest to Agri-wallet later. Farmers can sign up for an Agri-wallet account for free. When a farmer gets paid by a buyer, they can choose to get the payment in either mobile money or tokens. These tokens, effectively a down payment, are earmarked for purchasing inputs, such as seeds and fertiliser, and can be redeemed at partner input suppliers. When farmers have reached a minimum balance, they can purchase inputs on overdraft and repay Agri-wallet within six months. Finally, input providers who are part of the Agri-wallet network pay a fee when they withdraw their tokens, and in return can apply for an overdraft from Agri-wallet earmarked for purchasing inventory.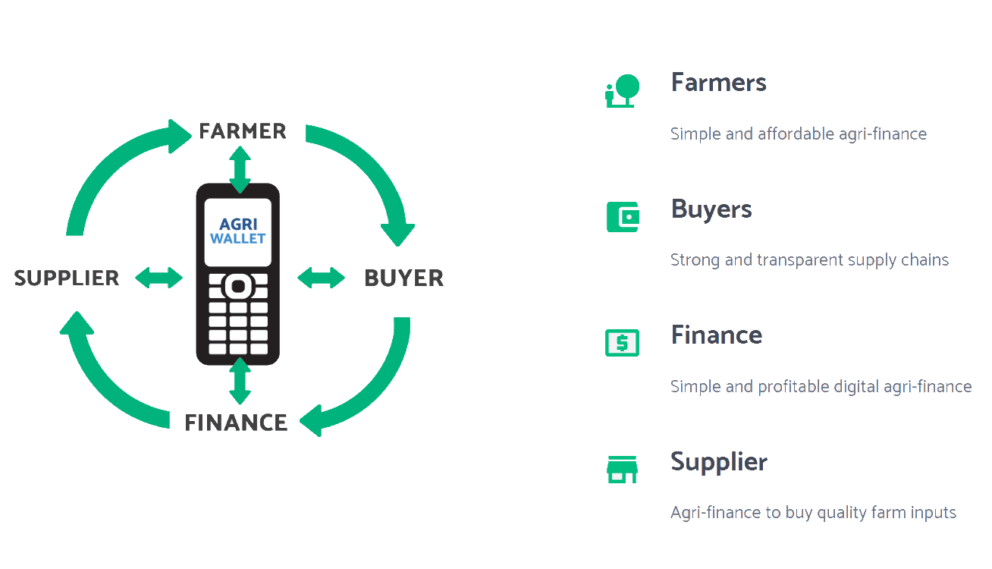 Partnerships with international and local investors or wholesale banks enables Agri-wallet to tap into large pools of capital, while debt investors can earn attractive returns from Agri-wallet's fintech solution. In practice, financing smallholders and SMEs in agricultural supply chains is considered by most funders too risky to even be considered. This creates a large gap between demand for and supply of financing for smallholder farmers and agri-SMEs. Risk mitigation tools such as credit guarantees can go a long way in unlocking agri-finance. For example, IDH Farmfit Fund de-risks investments in smallholder farming and helps drive sustainable impact by lowering risks and costs for both farmers and investors. Collaboration between Farmfit and Agri-wallet could create a new asset class that would appeal to a broad range of investors.
Risk mitigation tools such as credit guarantees can go a long way in unlocking agri-finance.
Investment for scale
Agri-wallet started in Kenya working with large international buyers to support them in building more sustainable, fair and transparent supply chains by providing them with affordable trade finance. Since then, Agri-wallet expanded first to serving smallholders, to further strengthen the supply chain by improving smallholder access to high quality inputs and, more recently, to international input suppliers looking to finance large inventory purchases.
Agri-wallet is far from finished and the next five years look equally exciting for the team. Agri-wallet's new partnership with IDH Farmfit Fund, Rabobank and FMO will unlock investment for scale, helping to drive sustainable production, food security and climate resilience in the agri-food sector. In addition to scaling in Kenya, Agri-wallet aims to expand to over a dozen countries in Africa, Asia and Latin America reaching over 3.3M farmers, 14K buyers and 12K input providers, and becoming one of the leading digital platforms serving entire agri-supply chains.
Agri-wallet's sustainable supply chain finance can facilitate a system shift from shareholder to stakeholder value and help raise the investment needed to finance a shift to low-carbon and environmentally sustainable agriculture and food production. Food and agribusiness use Agri-wallet's sustainability-linked loans to improve their performance on environmental, social and governance (ESG) measures, such as greenhouse gas emissions.
Click here to learn more about how blockchain can help farmers get access to finance.
Find out more
—
This article is made possible with the financial assistance of CTA (Technical Centre for Agricultural and Rural Co-operation). The views expressed above can in no way be taken to reflect the official opinion of CTA.