Fairfood farmer cards: Bringing connectivity to small-scale farmers and farm workers
After launching and field testing our Trace mobile app together with our partner Verstegen Spices & Sauces, it is finally time to introduce you to Fairfoods' Farmers Cards: a solution to trace transactions in areas where access to the internet and smartphones is scarce. In this article we explain why an inclusive design is essential when developing tools aimed at creating a fairer food system.
We're proud to share with you another technical solution empowering smallholder farmers in global food supply chains: Fairfood Farmer Cards. Applying a technology you're probably familiar with from shopping with your contactless debit card, near-field communication, or NFC, allow farmers to interact with the Trace platform even in regions where access to Internet and smartphones is limited. One scan, and it's done! The transaction is registered in Trace's blockchain system, farmers are included in product storylines and all stakeholders can verify the prices paid.
With the Farmer Cards, we take another step in exploring the potential of greater transparency in the first mile. As capturing consumers' trust has become a common challenge among food brands – with sustainable labels and certificates everywhere on supermarket shelves – few structural changes actually hit global South food producers, who continue to live in poverty. In this context, transparency is increasingly translated into data collection and traceability efforts: information about how, by whom and in which conditions the food on our tables is produced is crucial for companies and consumers looking for responsible sourcing.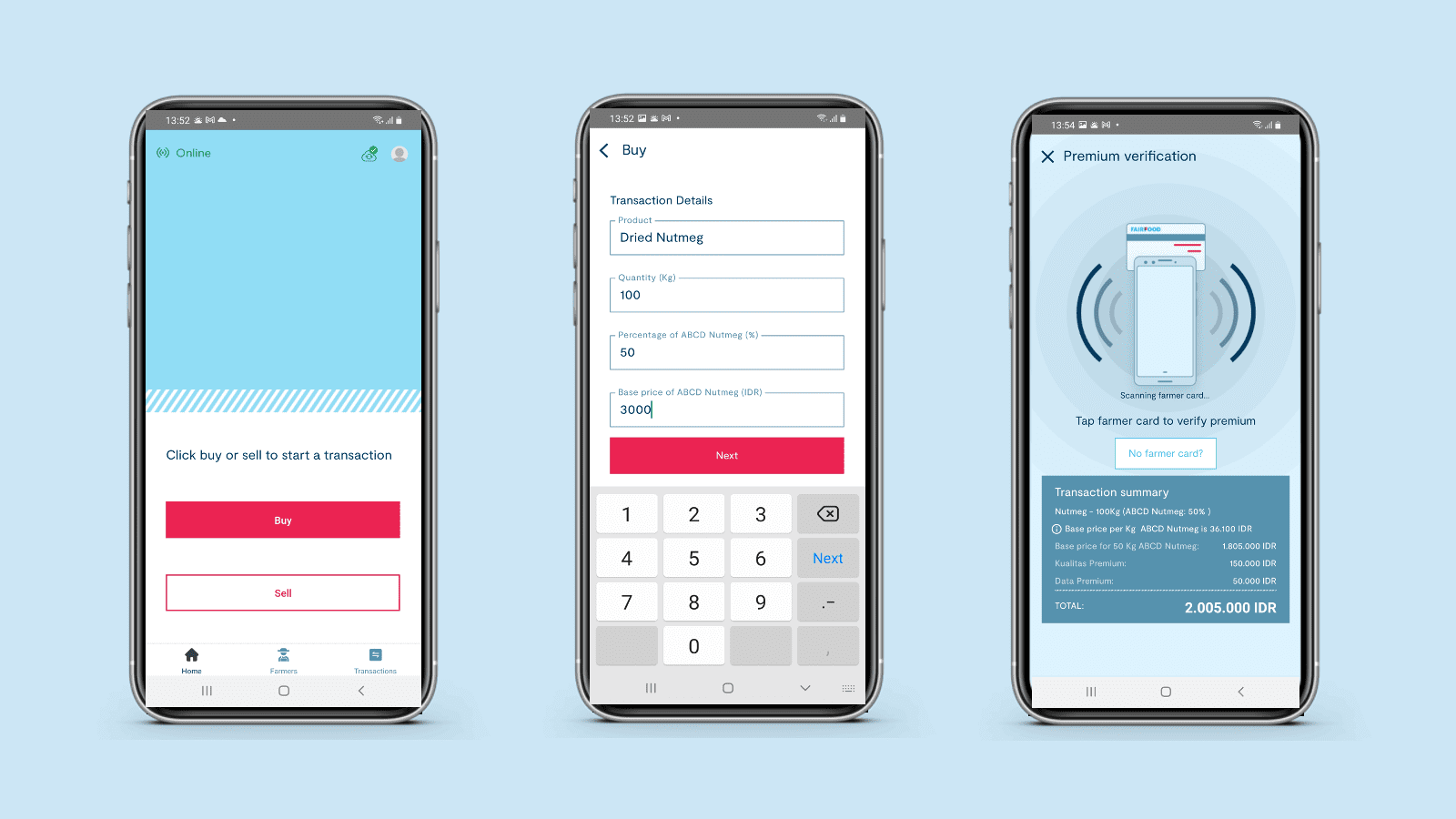 "Traceability allows farmers to finally be included in products stories being told, but this doesn't always mean farmers are truly included in global food markets. Inclusive and representative digital tools can help balance risks facing smallholders and finally allow for a fairer distribution of value in global supply chains"
Collecting such essential data in the field, however, remains challenging when it requires reaching so-called smallholders; food producers with less than five hectares of land. Currently providing a third of the world's food on just 12% of available farmland, these producers are at the heart of our food system. Yet, they also represent the poorest part of the chain, which results in a lack of access to reliable data, digital tools and online connectivity needed to improve agricultural productivity, access to inputs, finance and, ultimately, to international markets. The big question is: how can we ensure that new data collection tools keep smallholders in the innovation loop?
At Fairfood, the absence of such a farmer-centric approach on the market a few years ago led us to develop our own tool to give companies a better understanding of their supply chains with the ultimate goal of making improvements on the ground. If empowering smallholder farmers is a crucial part of a sustainable transition, then it all starts with reducing systemic inequalities. At Fairfood, this means that donors and implementing partners have a responsibility to understand the communities they work with. Only then can digital innovations align with local needs and become enablers for sustainable development, rather than building systems that duplicate efforts.
Empowering smallholders in rural Indonesia
Together with our partner Verstegen Spices and Sauces, we are currently piloting our new Fairfood Farmers Cards in Indonesia. Linked to Trace's mobile field platform already used by local buyers who source the brand's spices, these cards allow Verstegen to verify whether the Quality Premium price is being paid to farmers even in areas with a poor internet connection. This means that different actors in the value chain can assess the effect of prices paid in farmers' lives and work to increase their incomes.
Verstegen has joined us not only as a co-sponsor, but also as a co-designer. Based on constant feedback from nutmeg producers already working with the Trace mobile app, the cards are being piloted with no additional burden added for these producers already coping with high demands, volatile commodities prices and inconsistent international standards. For example, farmers are paid in cash and if the card is forgotten, a receipt is provided in paper, photographed by the collector, and attached to the transaction. And most importantly, they are incentivised to participate in the Verstegen data-driven Trace pilot: apart from a Quality Premium, the Dutch company is paying a Data Premium for farmers' active participation.
As the pilot unfolds, we will be able to assess the effects of extra money hitting farmers' pockets and what this tells us about the potential value of transparency in food value chains. Yet, one of the Supervisors of Indonesian suppliers, Leidy Egibrin, already shares positive notes. Even with resistance to and initial lack of trust in the introduction of a new technology, – especially since a large part of farmers is older and not familiar with digital technologies – the card use still increases after every new delivery. Leidy sees a large amount of pride for having the card and participating in the pilot. "Many of them want to have their photos taken when they are registering, even though this is totally optional. And some are already accessing their own data".
NFC cards allow for a digital identity, even if the farmers don't have email or a reliable phone number, and the digitisation aspect has also been well received as it enables a more efficient administration. Traditionally done through paper receipts and a log book, now managers are accessing quality data as close to real-time as possible in an easy way. That means a win for the farmers, a win for the buyers, and of course for brands and companies that are now able to better communicate their products' stories.
What an inclusive solution for data collection in the field look like
Active role: Farmers must be involved by giving consent and knowing when and why claims are being made. In Fairfood's Trace platform, this is done by enabling them to participate in verifying claims and knowing how the collected data is going to be used.
Compensation: Value is being added through claims being made about food products and by storytelling – and farmers should benefit from that. After all, one of the most important components of farmer inclusion that's missing is financial inclusion.
Control: Farmers should be able to opt in and out of the platform, and should be able to signal issues with data. And of course, they should have access to their own data and the right to use it for their own purposes.
Pride: Farmers should be offered the sense that people far away care about and enjoy the products they are delivering and are interested in the who and where of it.
Want to find out how our solutions can help you achieve your ESG goals? Plan a Trace demo today!
Transparency for future-proof supply chains