2-pager: year 2 of RECLAIM Sustainability!
By now, you've read about RECLAIM Sustainability!, a joint programme facilitated by the Dutch Ministry of Foreign Affairs. Together with our partners Solidaridad, Business Watch Indonesia and Trust Africa, we embarked on a 5-year journey to realise genuine sustainability in global value chains. Fairfood brings in tech expertise as the Innovation lead. With a new 2-pager we report on the progress we made in year 2.
After an intensive year of designing and launching our three transparency pilots, the second phase of the project was about firming the partnerships on the ground in Uganda, Sierra Leone and Honduras. As we work to prove the business case for transparency, the Fairfood team connects the dots between different stakeholders in the value chain. That is, connecting them all through Trace, our traceability platform that allows us to assess how value is distributed among them.
In 2022, we welcomed 8 new partners to the pilots, which allowed us to go from 726 farmers verified and connected to Trace to 5,474. And as projects develop, so do new verifiable claims on the Trace platform. Alongside Traceability and Proof of Payment, we now support companies to prove that products that are organic, fairtrade, and on the way to a living income.
Positive impact being made! Check it out for yourself on this 2-pager.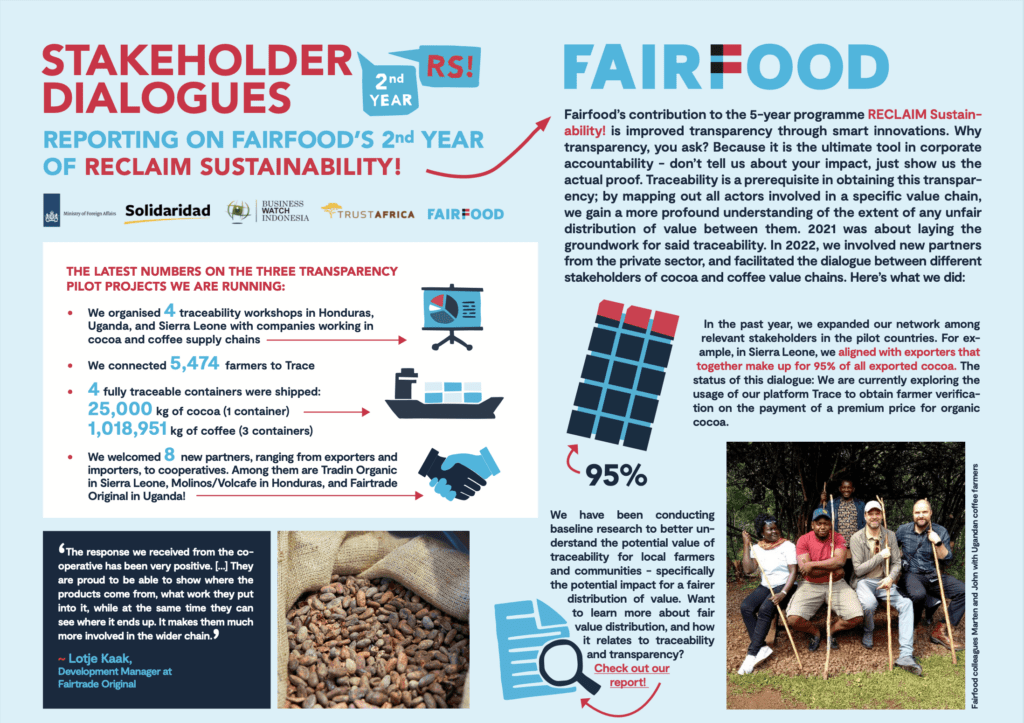 Download 2-pager