Fair data: Letting farmers be in charge of their own data
A joint strategic report on farmer-centric data governance was published by the USAID Bureau for Development, Democracy and Innovation (DDI), the Bill & Melinda Gates Foundation, Development Gateway, DAI, and Athena Infonomics. We are truly excited that our unique approach to data-management, that holds the farmer at its very core, is receiving significant recognition with a case study that highlights its wider potential. In this article, we explain our approach.
Find a short-cut to the case study here
With increasing digitisation in the agricultural sector, data now holds great promise for rural development. But in this era of data-led initiatives, how can we ensure that farmers' interests and data rights are actually being protected?
This is one of the underlying concerns that is steering Fairfood's partnership with Verstegen Spices & Sauces. Together, we set out to transform their Indonesian nutmeg supply chain towards full traceability, aiming to bring fully traceable nutmeg to Verstegen's consumers in Europe, while increasing farmers' income and their control over farm level data. By using digital tools to implement traceability, we hope that farmers can regain ownership over their own data, while also sparking a movement towards rural financial inclusion.
Indonesian smallholders' marginality
Our decision to focus on nutmeg production was not by chance. Indonesia accounts for approximately 75% of global nutmeg production, with smallholder farmers cultivating 99% of all national nutmeg plantations. Despite forming the backbone of nutmeg production, the farmers are largely excluded from the industry's benefits; smallholders are the poorest actors in the nutmeg supply chain, and are competitively disadvantaged due to limited access to market information. While nutmeg exporters have access to information and trends on global markets, farmers do not. They therefore have no bargaining power to negotiate prices and customer feedback to improve quality and control. In part due to their lack of competitive power and access to living incomes, the poverty rate of Indonesian households working in agriculture is 14% higher than any other sector.
An important factor which limits the development potential of Indonesian smallholder farmers is their stagnant financial inclusion. Indonesia's financial literacy index remains at a low 40%, as many people lack bank accounts and exclusively use cash, making it difficult to access formal funding for innovative agricultural technology due to a lack of legitimate credit history.
Our partnership with Verstegen
In our pilot with Verstegen, we aim to emphasise farmers' voices and agency. By taking on the role of "data steward", Fairfood acts as a mediator between stakeholders in the supply chain, in this case between the nutmeg farmers/exporters and Verstegen. Thanks to the development of a trusting data-sharing environment and an incentive structure through the use of quality and data premiums, our intermediary role helped balance out power structures and ensure that farmers' control over their data is respected.
First, using our Trace platform, we were able to make Verstegen's nutmeg fully traceable by registering all transactions along its supply chain, making the products' journey transparent from farm to fork. All smallholders have been provided with an NFC-powered farmer card, which allows them to verify the transactions and (premium) payments they received, even if they don't have access to a phone or Internet connection. Farmers access to their own data was enabled via a web interface and by integration with a local SMS provider.
This digitisation ensures that all nutmeg transactions are "farmer approved", as they can confirm they received a quality and data premium for each eligible batch. Thanks to Trace, Verstegen is able to sell the value of fully traceable nutmeg through a consumer interface, while nutmeg farmers are ensured a higher price for interacting with the platform.
To learn more about the technology behind this project, download this 2-pager
To incentivise farmer participation in this pilot project, quality and data premiums were implemented. While quality premiums incentivise farmers to collect higher quality nutmeg, data premiums are an added payment that Verstegen provides to smallholders for sharing their data on our Trace platform. The premium acts as an added incentive for the nutmeg farmers to participate in traceability, with data becoming an additional source of income. This re-establishes farmers' agency, as they are in full freedom of opting out of the platform. By mediating the sharing of data, Fairfood ensures that farmers retain control over their data, while also financially benefiting from the sharing of data.
Future Potential
With almost 400 farmer cards being issued, up to now, the added quality and data premiums have resulted in an increase of farmer incomes by around 5%. By prioritising farmers' agency and autonomy over their data, the project has improved trust over data sharing. This also has had benefits on the other end of the supply chain, as Verstegen is ensured high-quality nutmeg and a transparent interface which establishes consumer trust in their sustainability and fairness mission.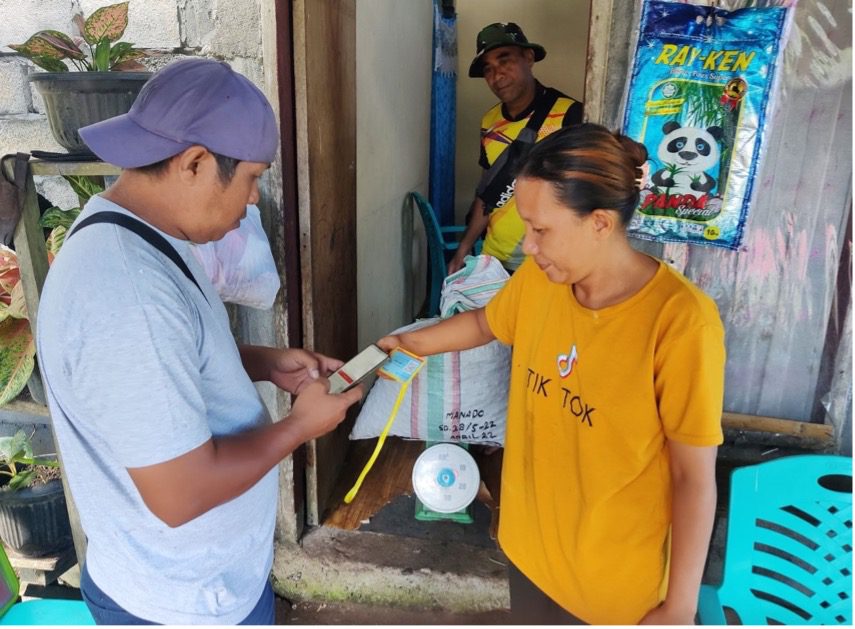 If farmers collect data that has value for third parties, it is only fair that they reap the benefits.
Despite holding massive socio-economic importance, Indonesian smallholders have little or no access to formal credit. This limits their ability to invest in improved agricultural technology, which would boost the productivity, income, and livelihood of themselves and their family. An important value of the NFC farmer cards is that they retain digital records of farmers' financial transactions, which could potentially help with accounting and attracting micro-loans, thus making a slight contribution to the financial inclusion of a structurally marginalised workforce.
It all adds to our vision for this project: to enable farmers to own, control, and monetise their data, while pursuing new revenue streams.