A weird year to celebrate 20 years of Fairfood
In the same year Fairfood celebrates 20 years of fights for a fairer food system, the world was turned upside down by the COVID-19 pandemic. A celebration no longer seemed appropriate. In this interview, Sander wraps up the year putting everything in perspective and anticipating what's on the horizon. Time calls for transparency, and Fairfood is ready!
The year is 2020 and the weaknesses and inequalities of our food chains have never been more exposed. While high-income countries saw supermarket shelves empty due to needless hoarding, farmers in developing regions saw the pressure build on their shoulders, having to adjust to a 'new' normal in record time. Problems such as a sudden stop on agricultural inputs and loss of food production due to new logistical issues contributed to poverty and hunger to evolve and a global economic crisis to install.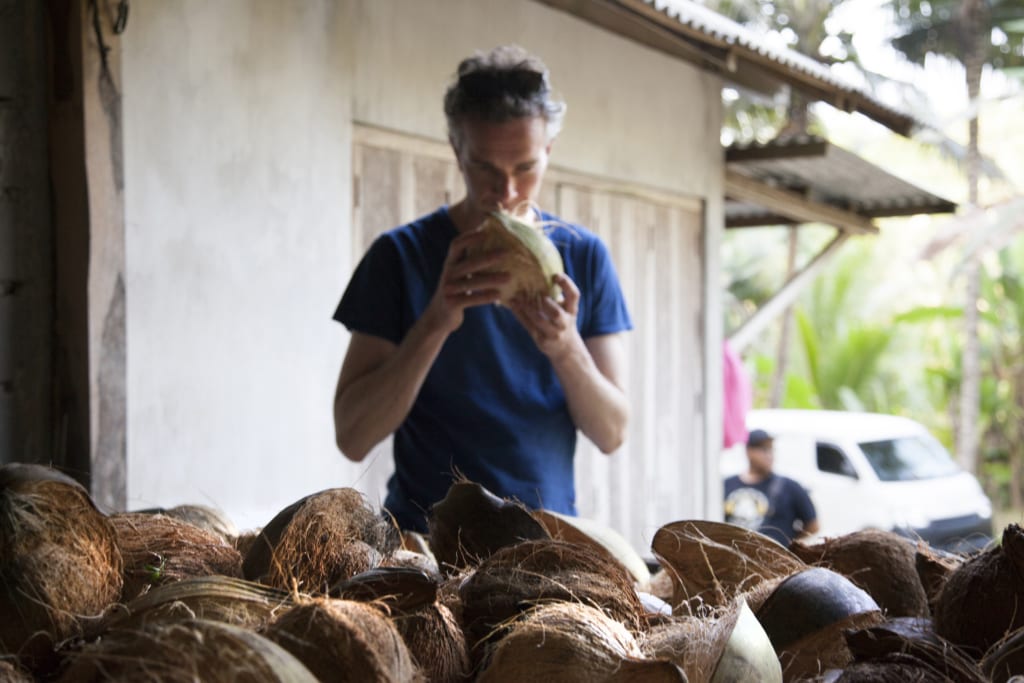 Just when we were slowly starting to see a change for the better. Concluding the year in which Fairfood turned 20, Fairfood's director Sander de Jong reflects on the past two decades. "By now, we have clear tasks thanks to the SDGs. Companies are starting to acknowledge their roles, farmers are seeing the rise of internet and GSM coverage. But will this promote change by itself? I don't think so", he says. "We still need to work on ways to break down the big power imbalance in many of these supply chains. How can we tackle the problems in coffee and cocoa if only a handful of companies dominate the markets and therefor the prices? Companies have new sustainable goals, we have the tools, but governments need to step up."
The pandemic, in a sense, reminded people just how human intensive the industry is. "It has touched all the lives of the people who are actively working in or are dependent on income coming from agri-food sectors. Reports showed income levels going down by 20 percent, and more children having to work in the cocoa and coffee fields to help with harvests", Sander says. "If we are this dependent on people for our food, it's kind of strange that we don't value them more, isn't it?"
Accelerating change
Among the many pandemic effects, a very evident one is how technology was forced into our lives, as it became the smart and convenient way to conduct our daily tasks in our jobs, studying and shopping – even more so than we already did. Not only in Western societies. African countries registered an increase in the use of internet among poorer populations, specifically migrant workers, that looked into it as a way to shorten the distance to their families. Could a more digitalised routine facilitate a sustainable transition in our food system? Fairfood sees digitalisation as a great development for humankind. As Sander states: "I think it can help us restore human connections in times of globalisation."
The problems in the agri-food sector already start at the very beginning of the supply chain, with exploitative dynamics surrounding smallholder farmers. The issues are sustained and amplified as products make their way through the chain, up until they end up in the hand of the consumer. Reports show retailers are not committed to help consumers making choices that contribute to alternatives lifestyles or to fairer trade systems. That reflects in the fact that we are still dependent on certifications to ensure sustainable and nutritional standards were followed.
Sector players know that they have a role to play, and they are asking for solutions and regulations to help them achieve their goals.
However, Sander makes sure not to romanticise technology, highlighting the reasonable fear that it can divide people by the "haves" and the "have-nots". As in, the people who have money or access to internet, and the ones who don't. That is not even mentioning the privacy issues that by now we are all aware of. "That's why we like technologies that have a democratic principle already built in, and provides a way to repair that. Blockchain is by default a democratic decentralised system", he explains. Since he joined the organisation in 2016, Fairfood shifted the approach from campaigning to partnering up with the industry, offering them smart innovations. "As an NGO, it is important to have the same knowledge and tools as the big companies, and then to know where the power imbalances are and help to break them down. It is being done by promoting a more democracy-based value chain."
Paving the way towards this moment
The Fairfood from 20 years ago differs greatly from today. "To put it in perspective, I do believe my predecessors paved the way towards this moment. Until 4 years ago we were mostly campaigning and advocating to activate consumers and put a light on the problems that are basically hidden in the food sector, like forced labour and poor working conditions. The next step was the naming, shaming and benchmarking food companies on how sustainable they are." Indeed, 20 years ago, organisations and supermarket chains didn't usually have a sustainability strategy, environmental or human rights policy. The active campaigning helped to put the issue on the agenda. "Today, sector players know that they have a role to play, and they are asking for solutions and regulations to help them achieve their goals."
Although a lot changed for the industry, it is hard to evaluate any potential positive impact on the farmers' end. "This is why we chose the digital components for transparency", Sander explains. As an example, he mentions the income of coffee farmers that throughout the years have remained painfully the same, while the costs are rising. Farmers are losing money every year and there's a huge debt in the coffee production. Helping them to access better information, better markets and better financing solutions must be the first goal.
This is an innovative way of lending a hand toward frontrunners who want to be enablers of change.
The recognition of Fairfood's story came with private sector players approaching the organisation for help. The Living Wage Lab, launched 5 years ago, is a landmark on Fairfood's timeline, heralding the new approach. This multi stakeholder platform has agri-food companies, governments and other actors from the field working together in a lab setting, experimenting ideas, tools and best practices. "This is an innovative way of lending a hand toward frontrunners who want to be enablers of change", Sander says.
Following, the ALIGN tool came out from the consolidation of the Lab. After forming a network of members committed towards paying living wages and ending poverty, a guidance tool on living wages and living income was designed. "And we actually also started building Trace, our platform that allows consumers to fully trace products, from that process. It's all part of a bigger vision on transparent food supply chains, and the tools are all complementary", he explains.
Inspired by other sectors, Fairfood adopted a more agile way of working close together with private sectors players, governments and farmers. Each new tool answers to a demand identified along the way. "In essence, we are still about connecting people and helping the ones who are already helping us with beautiful foods that we enjoy on a daily basis. Strangely enough, these people don't even earn enough to buy, let's say, a cup of coffee themselves", he explains. "We need to change that. The activism and the drive to helping the ones in need is still here, but now we want to use that energy in a different way. Instead of shaming big companies, we put this energy towards ensuring the system change is going faster than it went in the past. Whereas Fairfood used to be more about restoring a connection between consumers and the origins of their food, we are now about restoring that connection throughout the chain. You could call it a more holistic approach."
And really, we don't have a choice but to all start taking our responsibility and smooth out the food system before there is no way back. At Fairfood, we are often asked about the environmental impact of our food. Our answer: Fairfood mainly focuses on social sustainability, but in our eyes that is an important step towards environmental sustainability. How can we expect the people who are producing our food to worry about generations to come, when their minds are occupied with worrying about the next meal? "We can and we have to speed up the positive systemic change that is so much needed. Otherwise there will be no coffee in our cups, no tea in our pots, no chocolate for Christmas."